Knowledge Manager
Your job is to improve resource efficiency, product innovation or collaboration through better leveraging of available knowledge resources or external customer knowledge.You are also concerned with the retention of knowledge generated in your organization.

As a knowledge manager you want to translate the potential of knowledge management tools into tangible business results. This can influence compliance improvements, process optimization, lowering of risks and cost optimization. Your management expects not just some knowledge management definitions or concepts, but a good return of investment from knowledge management projects.


Knowledge management has been AHT's core competence for the last 20 years. The key learnings of the many AHT knowledge management projects have been summarized in a chapter of the book «Wissensmanagement beflügelt» from AKA-Verlag.(in German).

In November 2017 we have introduced the new 3 Spere Model for Knowledge Management. The model allows fast clarification of terms and identification of knowledge management issues. Furthermore, it helps to pinpoint KM related techniques and tools. It puts them into the right perspective and shows where they bring the greatest benefits. This accelerates the understanding when defining outcomes of a knowledge management project.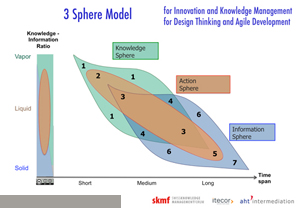 Based on our experience we have developed the following services for all the various aspects of knowledge management. Please, contact Pavel Kraus for more information on our knowledge management toolbox, expert opinion (Gutachten) and innovative approaches.
Based on an interview with Pavel Kraus knowledge management pays off if:




Project teams make slow progress



Coordination of processes becomes too complex



Communication among organizational units is failing




Lack of overview is preventing effective action



New collaborators should become productive faster



Fluctuation of knowledge workers gets to big



Too many specialists are retiring




One can not find information fast enough



Recources are not used optimally



The wheel gets reinvented again and again

AHT Knowledge management services


General services, Expert opinion and Second opinion




Build-up of knowledge management system



Knowledge management Best practices



Debriefings and personal knowledge transfers



Onboarding programs enabling new collaborators get productive fast



Customer knowledge - assessment and integration



Knowledge management and ITIL



Quality management (ISO norms update 2015) and knowledge management implementation



Second opinion on the efficiency of knowledge management activities



Expert opinion on knowledge management programs (Wissensmanagement Gutachten)

Strategic view




Based on our «Context Tool» we develop concepts for «Knowledge Portals» creating a central place for exchange



Assessments of needs and options for knowledge management strategy based on KM success logic



Positioning of knowledge management in your organization (Download slide)



Networked organization - Communities of Practice



Knowledge management strategy and implementation



Complexity management workshops



Skill management implementation



Innovative Intranet search and content curation concepts


Process view




Process visualization for quick identification of context information



Process optimization through knowledge management methods



Knowledge management process integration into daily business



Knowledge transfer within matrix organizations



Making simple processes and knowledge maps


Project view




Project start-up workshops



Team communication workshops



Lessons learned workshops



Knowledge maps for mission critical areas, incl. Technology Roadmaps


Collaboration view




Role of social collaboration in SMEs and large companies including building communities of practice



Integrating of adjuvantive tasks into daily work to increase knowledge managment efficiency



Electronic team collaboration - based on docControll information architecture



Usability and taxonomy improvement



Sharing best practices accross organizations



Innovative approaches: Content curation, Scrum, Simulations, Game visualizations and others

Knowledge management and collaboration for Start-ups




Synchronization of collaboration and communication in dispersed teams



Clarification of the value proposition



Visualization of product and service ideas



Document management in a virtual environment



How to manage multi-projects



How to balance out face-to-face and virtual meetings



Efficient productivity across several sites

Technical and IT aspects




Requirements Engineering for Knowledge Tools



Knowledge Systems Strategy



Knowledge Base Requirements



Essential Prerequisites for Knowledge Processes


In light of 2015 revision of the ISO norms the discipline «Knowledge Management» will gain more emphasis and focus in the near future. This revision includes knowledge management and competency management as mandatory parts. This will create challenges for Small and Middle Enterprises who have been not yet thinking about knowledge management.